Aluminum Solar Cat Eyes Features:
•High shock resistance, energy-saving, environment friendly.
•Automatically starts to work when night falls or with the onset of inclement weather.
•These aluminum alloy LED Solar Cat Eyes are naturally charged by the sun.
•The LED lights of Solar Cat Eyes come on automatically as soon as it starts getting dark every night.
•Cost effective, Solar Cat Eyes easy to install and require absolutely no wires or maintenance.
•Dramatically enhances the look of your garden/yard/driveway.
•Specifically designed with road safety in mind and can help to prevent serious accidents and emit rather than reflect light.
•Pavement marker Solar Cat Eyes accept OEM/ODM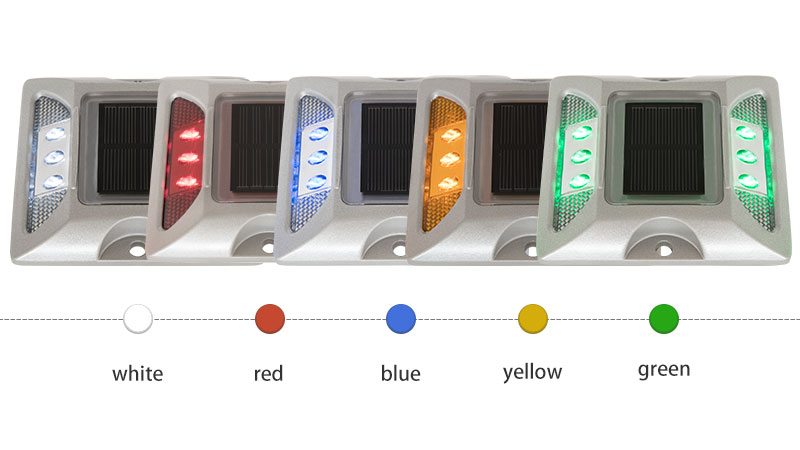 LED Solar Cat Eyes Light Parameters:
    Material:
    Heavy-duty casting aluminum
    Power supply:
    The solar panel(monocrystalline 2.5V/0.2W)
    Battery:
    NI-MH 1.2V/800MAH
    Working model:
    Blinking or Constant
Charging at daytime and working automatically at night
    LED:
    Diameter 5mm;2pcs or 3pcs per side
    LED colors:
    Yellow, White, Red, Green, Blue
    Life span:
    3 years
    Resistance:
    >20T(static)
    Size:
    L123*W133*H22mm+55mm   (L4.84″*W5.24″*H0.87″+2.17″)
    Visual distance:
    >800M
    Water poof:
    IP68
    Carton Size:
    2pcs/box; 60pcs/ctn; Weight: 21kgs; Carton size:58.5*24.5*18.5cm
(2pcs/box; 60pcs/ctn; Weight: 46.30bs; Carton size:23.03″*9.65″*7.28″)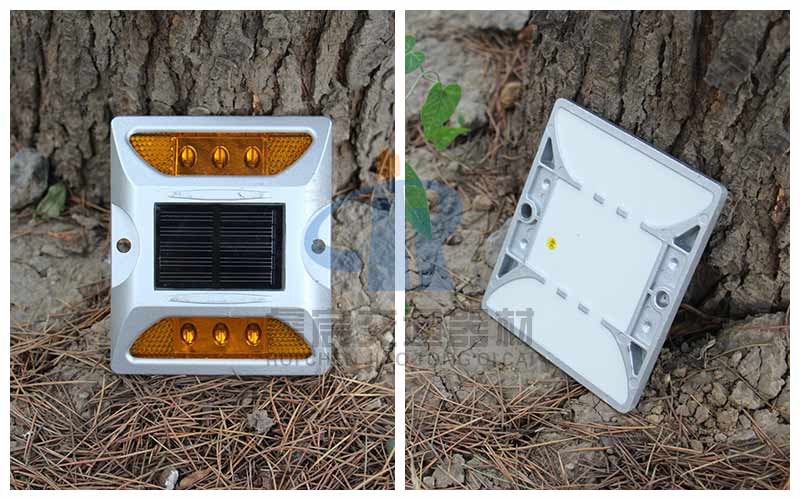 Application of Aluminum Solar Cat Eyes D3:
♥Schools and hospitals
♥Highways
♥High traffic areas
♥Walking paths
♥Transit stations
♥Parks and campuses
♥Urban Road
How to install Aluminum Solar Cat Eyes with shank D3:
1.Carefully mark the distance between the placement of the Solar Cat Eyes. To prevent adverse effects on the ground, use appropriate tools, such as core drills, which have a diameter of 35mm and a depth of 55mm.
2. Remove all debris from the mounting hole.
3. Pour epoxy resin into the hole according to the manufacturer's instructions.
Make sure that the mounting holes are straight. Make sure that the mounting hole is large enough to allow epoxy resin to surround the Solar Cat Eyes.
4. Adjust the lighting surface of the Solar Cat Eyes to the desired viewing angle.
5. Make sure that the epoxy resin adheres evenly to the mounting hole and the Solar Cat Eyes. Make sure that the bottom of the Solar Cat Eyes is securely mounted on the mounting surface to ensure that zero "surface floating" occurs. (Space between the installation sign and the bottom of the Solar Cat Eyes).
6. After curing the LED Solar Cat Eyes for 6-8 hours, remove the installation of the isolation facility.